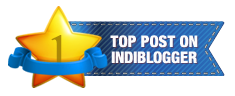 Recently I reviewed a very small (18 pages) poetry book from Namitha Varma titled My Heart is Your Brothel. You can read the review
here
. She read my post on Indiblogger in the current IndiSpire topic and got inspired to writer her own 10 wishes that she has posted on her blog. I am re-posting it here so that it gets a space in IndiSpire.
@PebbleInWaters @indiblogger Just read it. & got inspired. Have borrowed your poem's title for my own 10 things. http://t.co/pyLfBCMfRD
— Namitha Varma-Rajesh (@namithavr) September 14, 2014
Above is the tweet from her. Below is her post:
Glean a baby's smile
steal a cat's cuteness
gather the raindrops and make a necklace;
touch the whispers of the wind
feel the murmurs of the stream
drink a bowlful of moonlight
breathe in the sunlight and glow from within;
travel on the sound of the chugging train
sleep on the froth of a rising tide
walk a mile in my mother's shoes.
If I can do these before I die,
why, death would then hardly count.